Well folks… we made it!
Give yourself a pat on the back because… 2020. What a year. Need we say more?
And we couldn't have done it without you: our members, sponsors, volunteers, committees and everyone who joined us at WiTWA in 2020.
So here's a little ode to 2020 from the team, featuring our 2020 highlights, challenges and what it means to us to be moving forwards confidently into 2021.
It's a COVID kind of world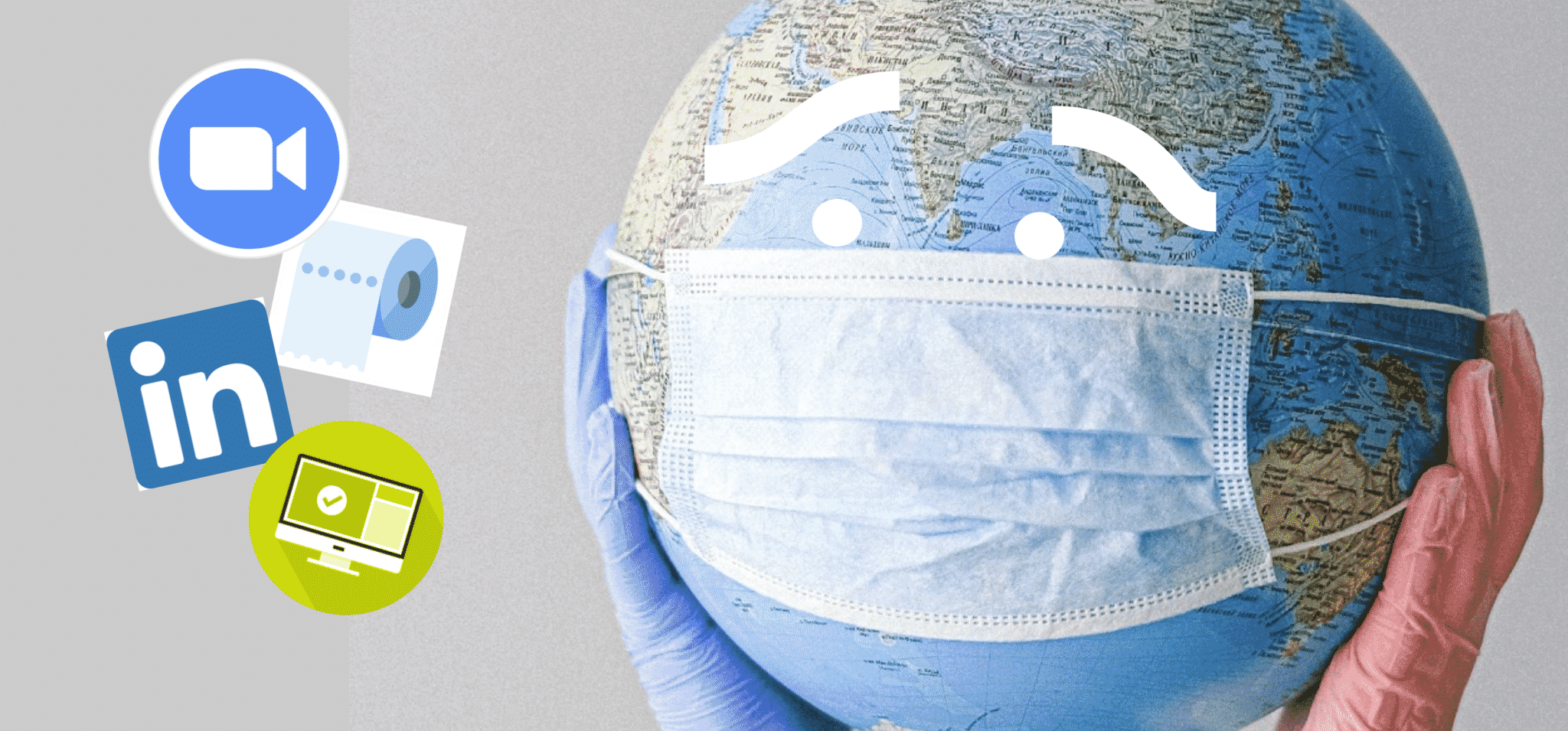 For a non-profit community built around face-to-face networking events, the impact of COVID-19 could have been huge.
Physical distancing and WA's temporary shutdown could have left our community of local tech [+] women disconnected, unsupported and drifting. At a time when many of our members needed us most to champion and sustain their journeys.
Likewise, our Techtrails program, which brings industry role models to schools to inspire the next generation of talent, could have been completely derailed. Leaving students and teachers with an extra curveball thrown into 2020, and no one to share their tech career concerns and questions with.
Pivot… pivot… pivot!
But, undeterred by events outside our control, the WiTWA committees – led by steadfast individuals from local industry – swung into action planning the team's response to COVID-19.
The Events team took COVID in their stride and took to Zoom with our very own unique WiTWA-style virtual events. Creating 6 tailor-made sessions to help our members to leverage their network, reclaim that new job, rapidly adapt to the "new normal" and keep motivated in the face of challenging times.


Likewise within a mere 6 weeks the Techtrails Committee with the help of launched a brand new WiTWA initiative taking Techtrails completely online. Talk about pivot, adapt and overcome!
The new initiative is a self-serve online model, with video content showcasing inspiring female STEM role models, answers to burning career questions and future-skills workshops linked to Australian curriculum.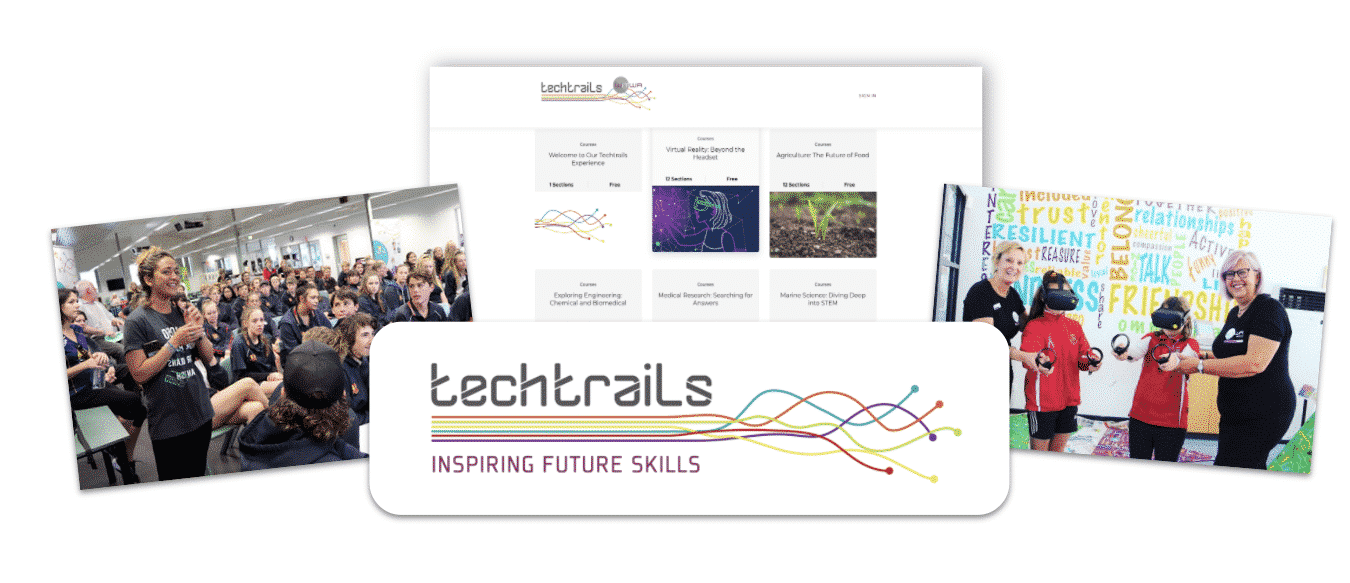 The first Techtrails Online modules feature VR, Agriculture, Marine Science, Engineering, Planetary Sciences and Medical Research and are available online now.
We see this initiative as an exciting new addition to our current Techtrails In-School Program and one that can grow to reach more students including those in regional and remote areas of Australia …Watch this space!
Zooming in on Female Leadership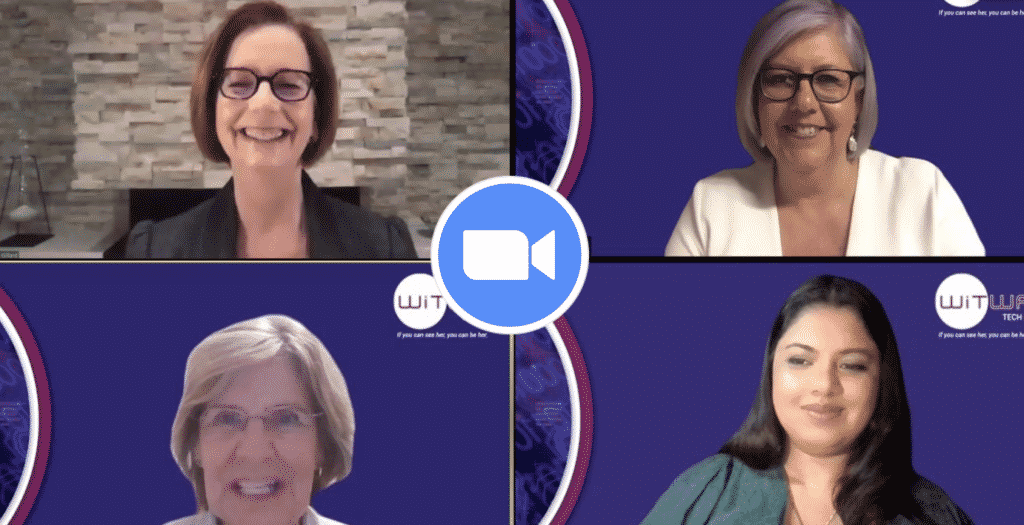 2020 also delivered a delightful highlight for our team with Julia Gillard dialling in on Zoom for our very own special WiTWA talk. To say we were excited to deliver this event would be… well… a small understatement.
The event was co-hosted by Boffins Books and was an incredible accolade for WiTWA with over 1250 people registering to hear Julia's conversation with Pia discussing her advocacy and research and her inspirational new book co-written with Ngozi Okonjo-Iweala.
And if that wasn't enough of a challenge for 2020…
With our new-found Zoom confidence (yes, the microphone is now on!) the fabulous Conference Committee then managed to pull off what, at times, felt like a near-impossible task: taking the highly anticipated WiTWA 2020 conference online.
But pushing past the fear and the endless hours of preparation WiTWA hosted a feast of content to fill up our inspiration cups to the brim. With 20+ hours of content, 40+ local, national and international speakers. And keynotes from international tech stars Emma Isaacs, Julian Gutherie, Lisa Harvey-Smith, Dominic Price and, of course, the one and only Dame Stephanie Shirley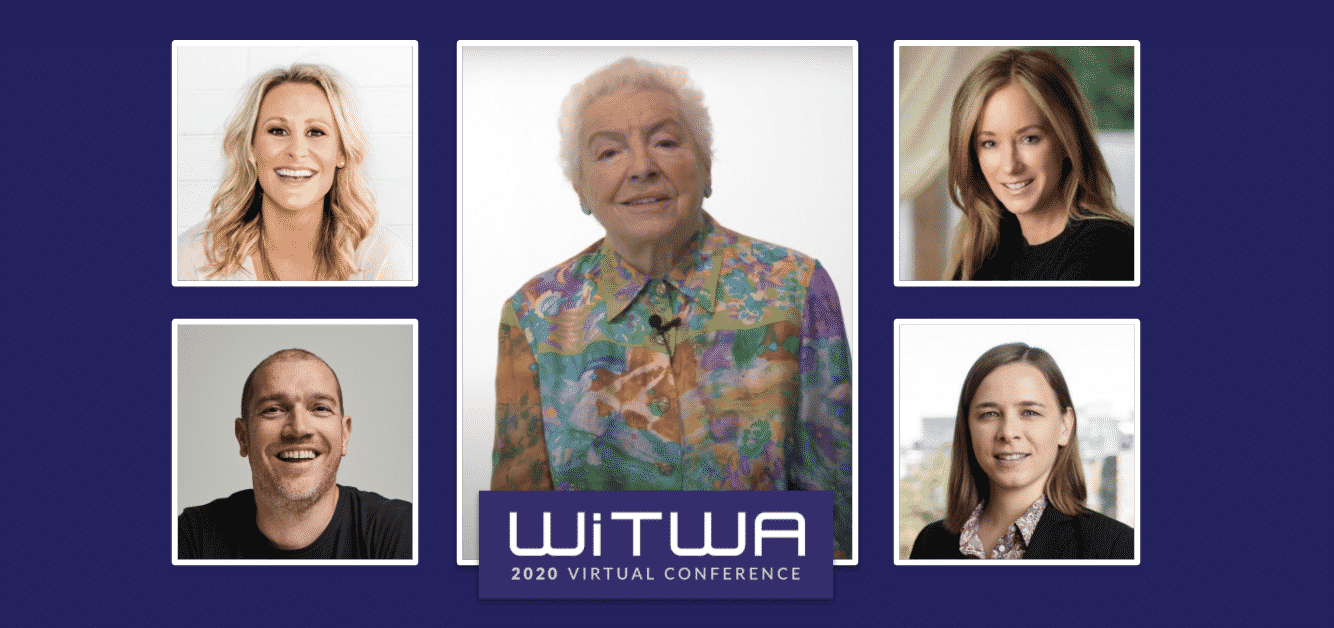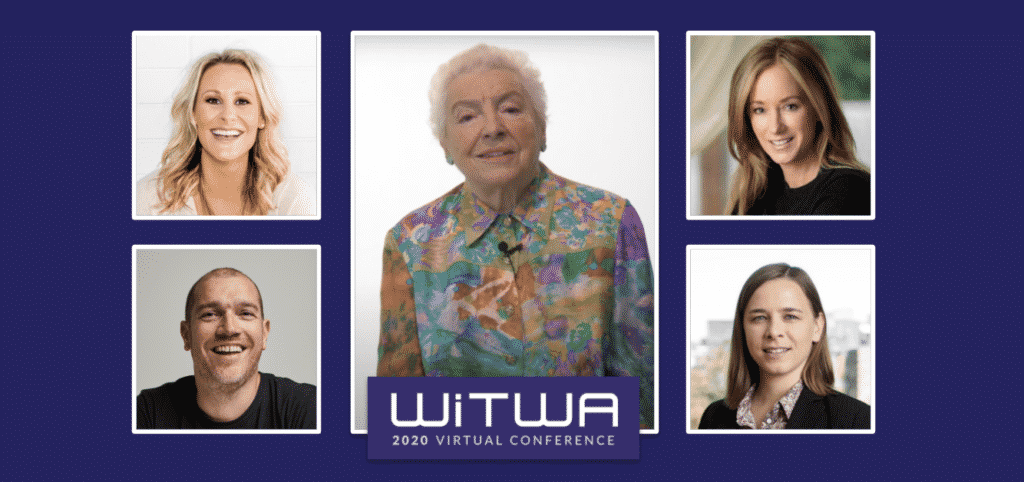 Glowing it up purple
With WA's slow re-opening after shutdown a semblance of normality returned for us lucky west-coasters. And after a few long weeks of uncertainty the WiTWA awards night was able to go ahead in full swing.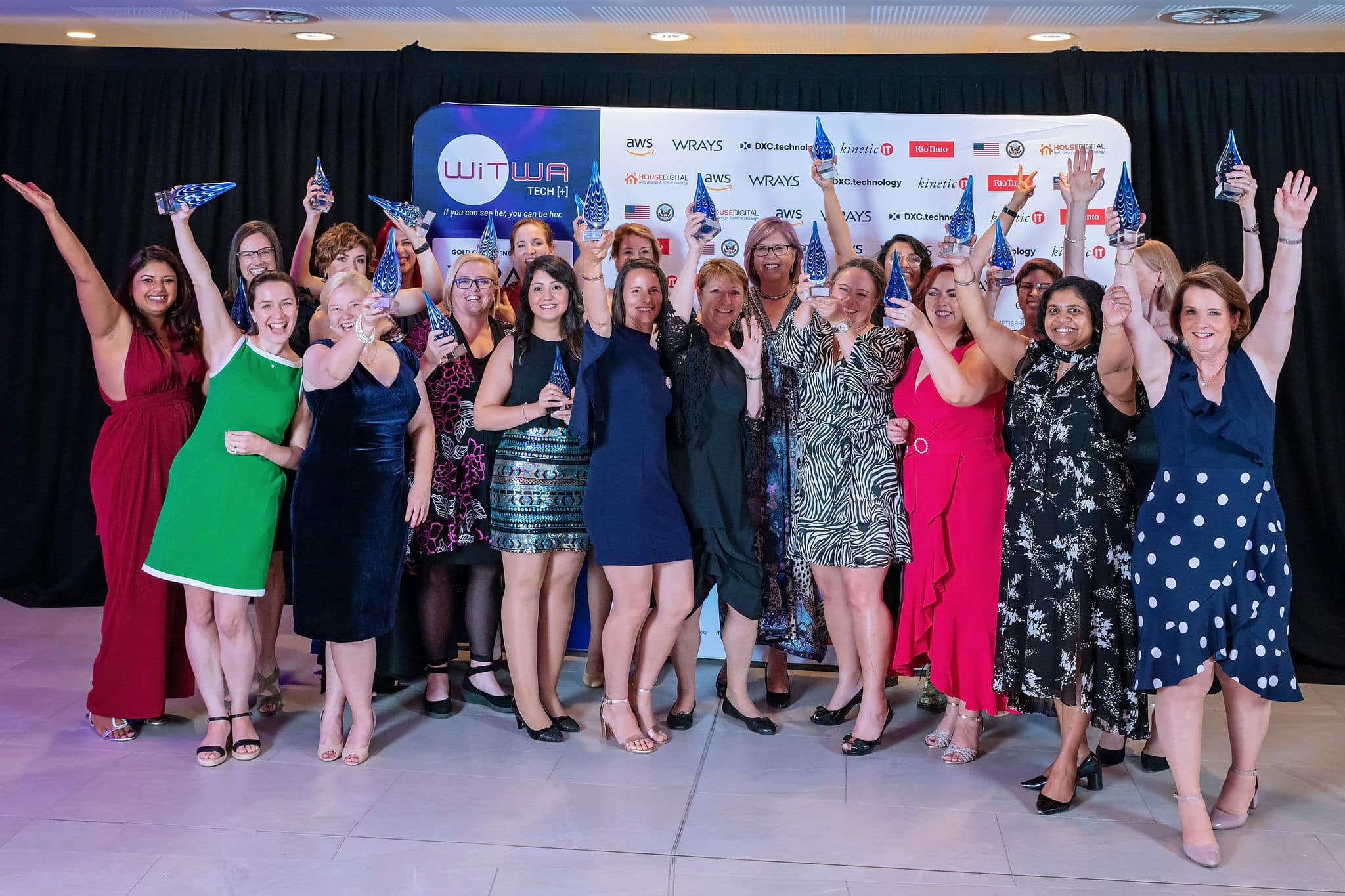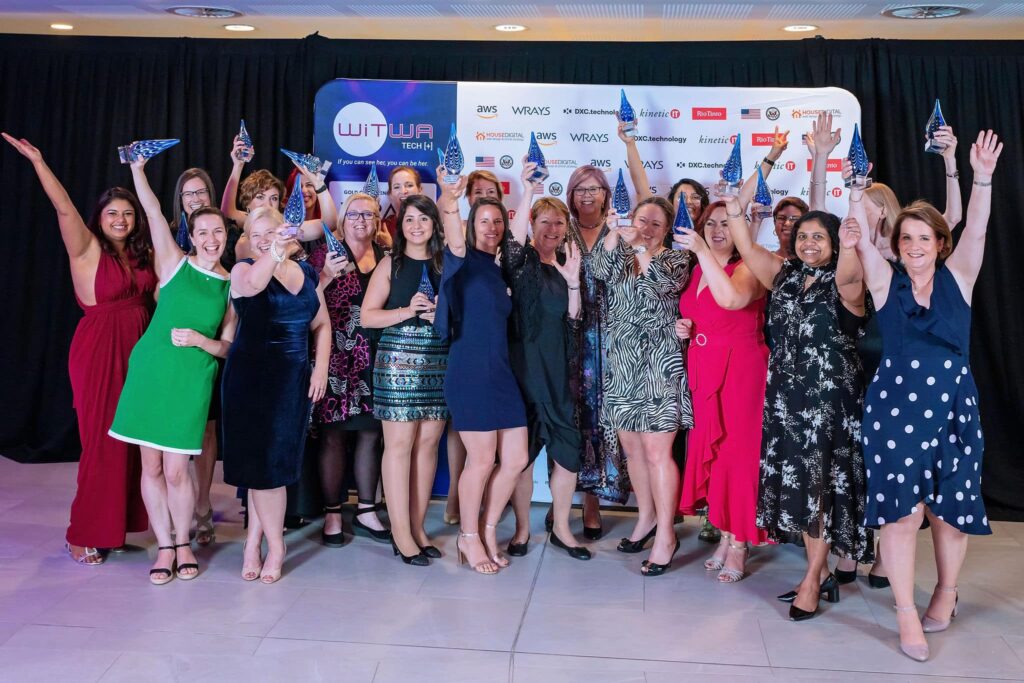 And how fortunate we were to be able to gather 350+ incredible people to celebrate our 22 winners for THE annual celebration for women in the Tech [+] fields of WA. (… we may be a tad biased). More about the awards in this blog post.
And on the evening of the 30th October the Events committee made sure the whole of Perth knew about our Tech [+] 20 Awards, with the team using their powers of persuasion to get both the Optus Stadium and Matagarup Bridge lit up in WiTWA Purple.
I think it's safe to say that all of Perth could see our purple, glowing happiness from a mile away!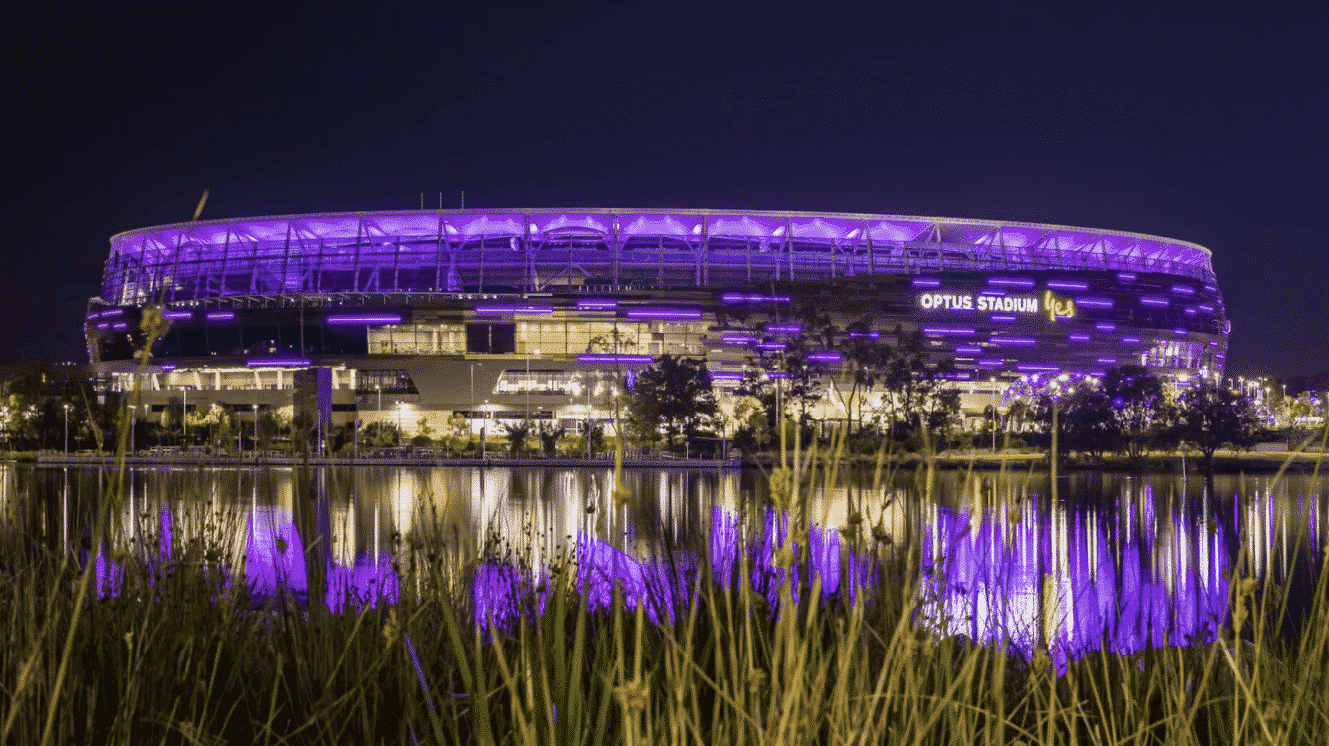 Our new chairs
Pia Turchinov, Committee member since 2004 and our Chair for the past 4 years has also left us with big shoes to fill in 2021, passing the role to Tina Ambrose and Kay Hargreaves.
It would take an entire blog post to express the impact of the endless love, labour and inspiration she has brought to our members and organisation. But let's just say for now that we are excited to see what happens to future organisations and initiatives that are exposed to Pia's purple light #seeherbeher.


Similarly, over the past 3 years at WiTWA we've had a not-so-secret weapon, whom some of you might know by the name of Lacey Filipich. Lacey has been instrumental in driving both the WiTWA [+] Conference and the Tech [+] Awards and we will miss her deeply. She has decided to step down to focus on her own initiatives in financial education.
We would personally love to thank Lacey for the last few years and key inspiration to all our growth with WiTWA to date!


Our online overhaul
In case you haven't noticed, we have been working hard behind the scenes, and have revamped not one, but all three websites through the year under the watchful eye of our WiTWA Digital Lead. 
House Digital (WiTWA [+] Bronze Sponsor) worked tirelessly behind the scenes during 2020 to bring our shiny new platforms to life. Helping us launch the new WiTWA site (including a comprehensive role-model search tool), a new Techtrails Site and the new Techtrails Toolkit for Schools. Be sure to check them out!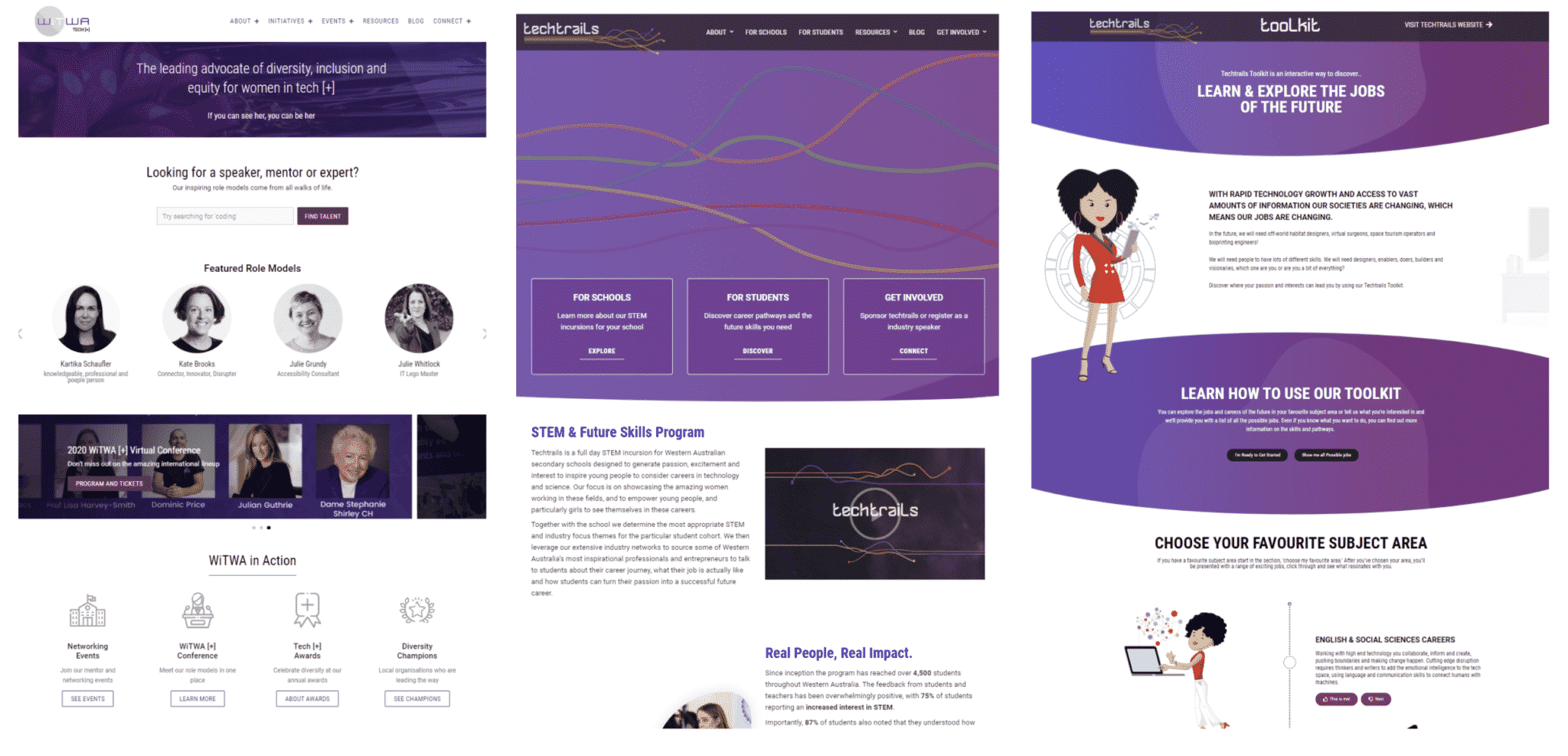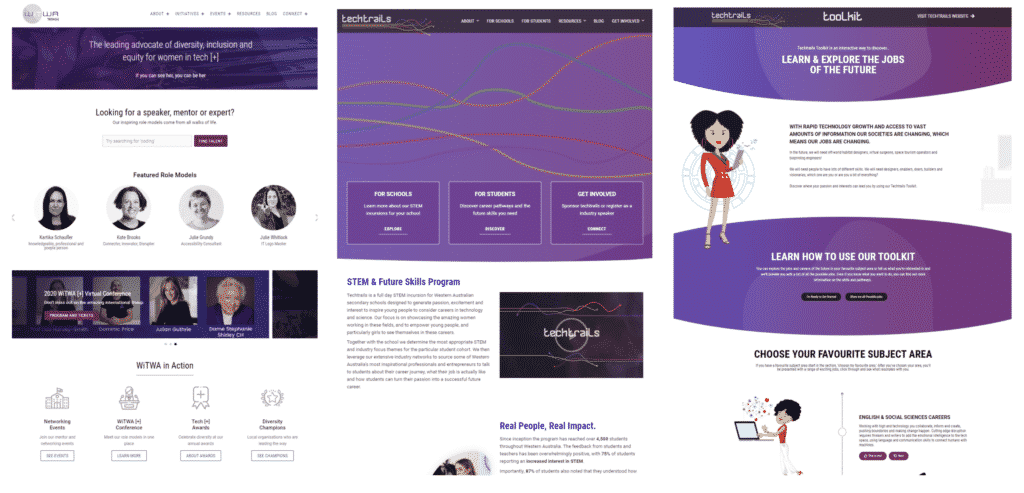 And thanks to the persistent online presence spearheaded by Comms Team, we have grown our online following by 30-50% across channels.
Rest, renewal, and 2020 future vision
Sitting still in the aftermath of 2020 it is easy to focus on WiTWA's incredible adaptivity, resilience and success in a momentous year. This year has also, at times, been an extremely trying and uncertain time for our community, volunteers and leaders.
But if 2020 has taught us anything it has vividly re-affirmed how essential our human connection and communication (even if sometimes digital!) is to who we are and what we do as an organisation.
And WiTWA's ability to connect women with the skills, passion, and community to thrive is a superpower that sets us apart moving into 2020.
Diversity and Inclusion is a major focus for WiTWA in 2021. Look out for announcements in the New Year along with an official date for the next conference!
In the meantime rest, share your heart with your family and local community, and we look forward to seeing you all on the other side of 2020.
Best wishes, The WiTWA Team
---
💜 We couldn't have made it through without you! 💜
Thank you to all our wonderful event sponsors – investing your time, money and resources into our network. You hold a special place in our purple hearts for continuing their support in a year full of uncertainty for many.
Your support has made it possible for our volunteer-led non profit to lift up even more women in tech in 2020 and hit new highs!
A heartfelt shout out also goes to our Techtrails supporters – the Department of Jobs, Tourism, Science and Innovation, the Department of Communities, and Kinetic IT. Along with the fierce talents of Emmaline Yearsley (Community Lead), Gry Stene (Digital Lead) and Jo Minney (House Digital, WiTWA Bronze Sponsor).
To our subcommittee and committee members and volunteer community – somehow making time for WiTWA around work, family and life. We hope you find a thousand returns in the impact your efforts have made! We see you all and appreciate the incredible individual strength you bring to our team.
And to YOU! Our wonderful members. Thanks for watching, listening, attending, subscribing and allowing us to share this wonderful year with you.