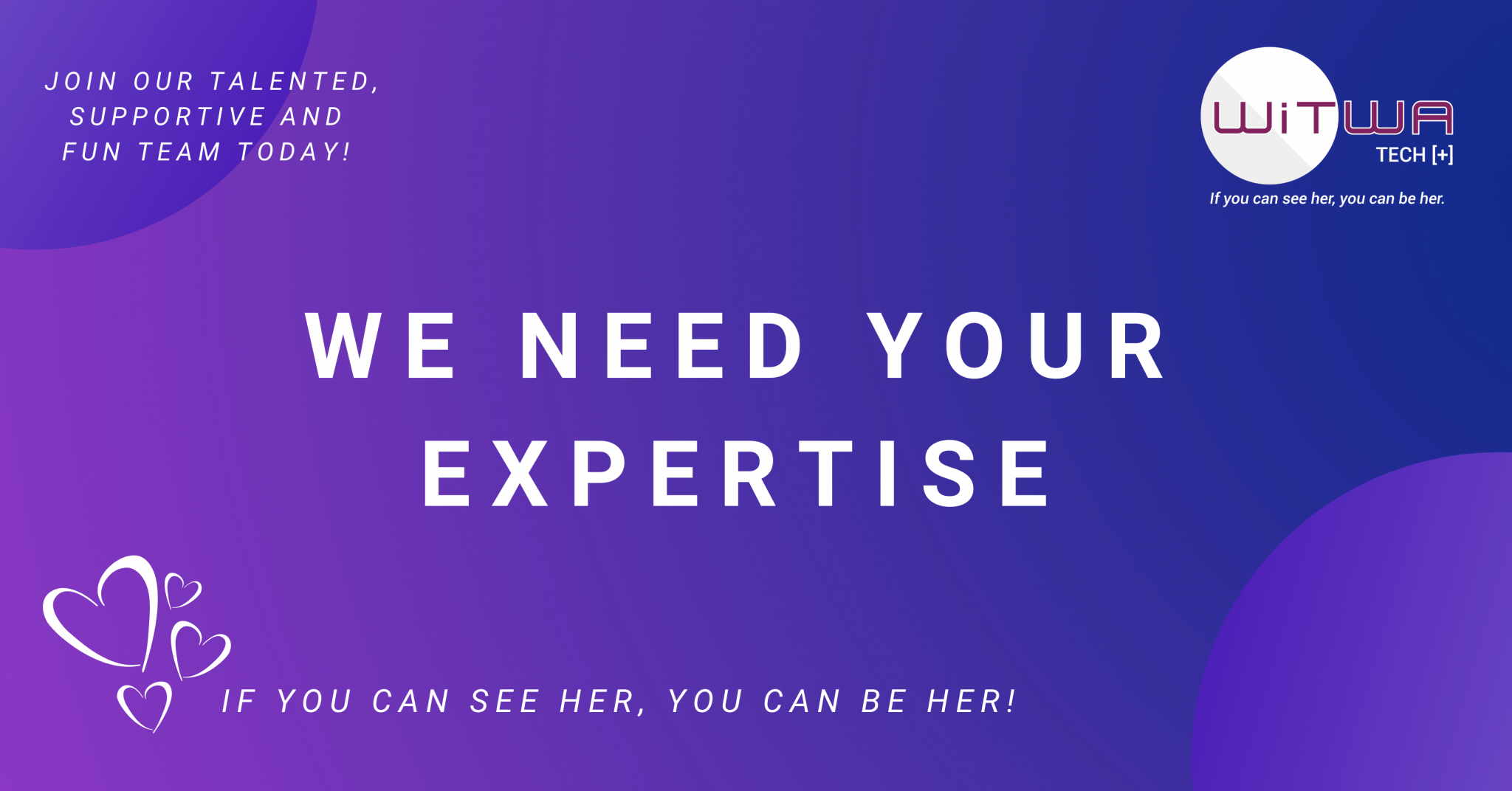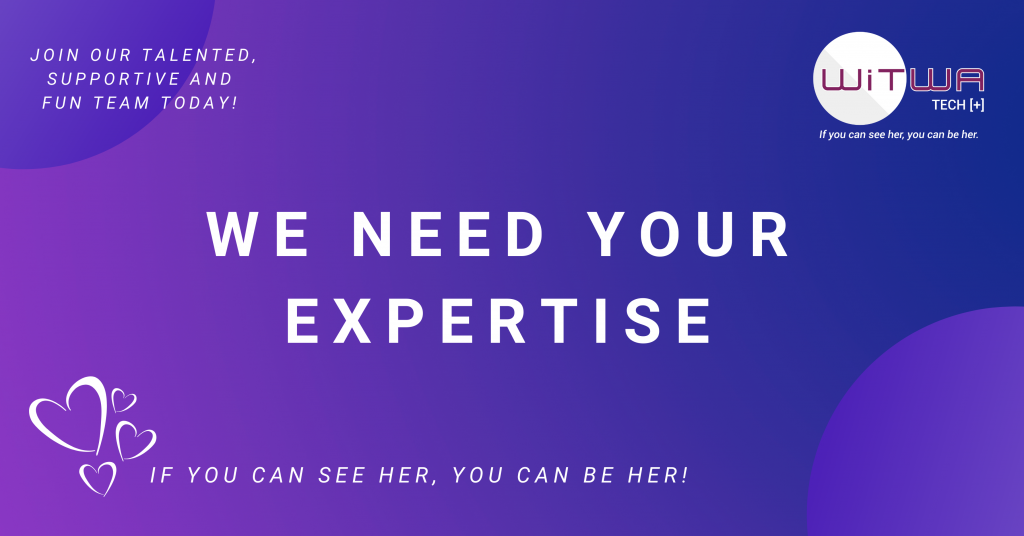 Welcome to our WiTWA Volunteer Vacancies page, where you will find a list of the amazing opportunities to join our fabulous Committees/SubCommittees.
As WA's leading advocate of diversity, inclusion and equity for women in Tech [+] we are often looking for exceptional people who want to give back to the community and join our mission. WiTWA provides empowerment and community to women to make the tech industry equitable. By amplifying the voice and contribution of women through positive role modelling, deeper connections, and influencing societal evolutions. Through industry events, awards, education, corporate programs, and innovation space.
We believe:
IF YOU CAN SEE HER, YOU CAN BE HER!
We focus on inspiring and enabling women and girls to see what is possible when boundaries are pushed, biases suspended and they are armed with tools and resources to find success and opportunity.
If you would love to join our talented, supportive and fun team of exceptional volunteers, all on a mission to drive positive social change, then check out the current vacancies below.
If you have any questions about any of the volunteer roles, please contact Teagen McEwan via [email protected]
---
Graphic Designers (Communications & DEI)
Do you have an eye for conceptualising designs, with a passionate use of colours… Are you a canva and adobe expert who has templates for every project and campaign that you deliver… Is branding and attention to detail what you dream about when you go to sleep? Then we need you! You will also have the free range to bring your ideas to the table and to get involved in strategic communications planning.
Social Media (Communications)
Do you love creating engaging social media content? Keep our 10,000+ followers informed of our events, initiatives and programs. You will also get to shine the torch on the incredibly talented women in the tech field of WA through our Awards promotions and help people make meaningful connections through our network.
Marketing Content Writer (Communications)
We are looking for a word smith who is comfortable creating newsletters and EDMs to join our team. In this role, you will be the creative writer who collaborates within the WiTWA volunteer network, telling the stories of our amazing events, initiatives, volunteers and partners. We want engaging and attention-grabbing copy that has our community celebrating the success of WiTWA and the community we serve.
Website (DEI)
Are you a tech savvy expert who has experience in using WordPress? If yes, then we want you! To have a passion for technology and expertise in systems this will help you to deliver and promote exciting stories on our website, showcase amazing women in tech [+] and collaborating with volunteers to collate content for initiatives and events run by WiTWA and across the state.
Content Writer (DEI)
Do you love creating written content to share stories and communicate value? Our Diversity, Equity & Inclusion (DEI) team are looking for talented writers to create curated copy that will help our Corporate Members on their DEI journeys.