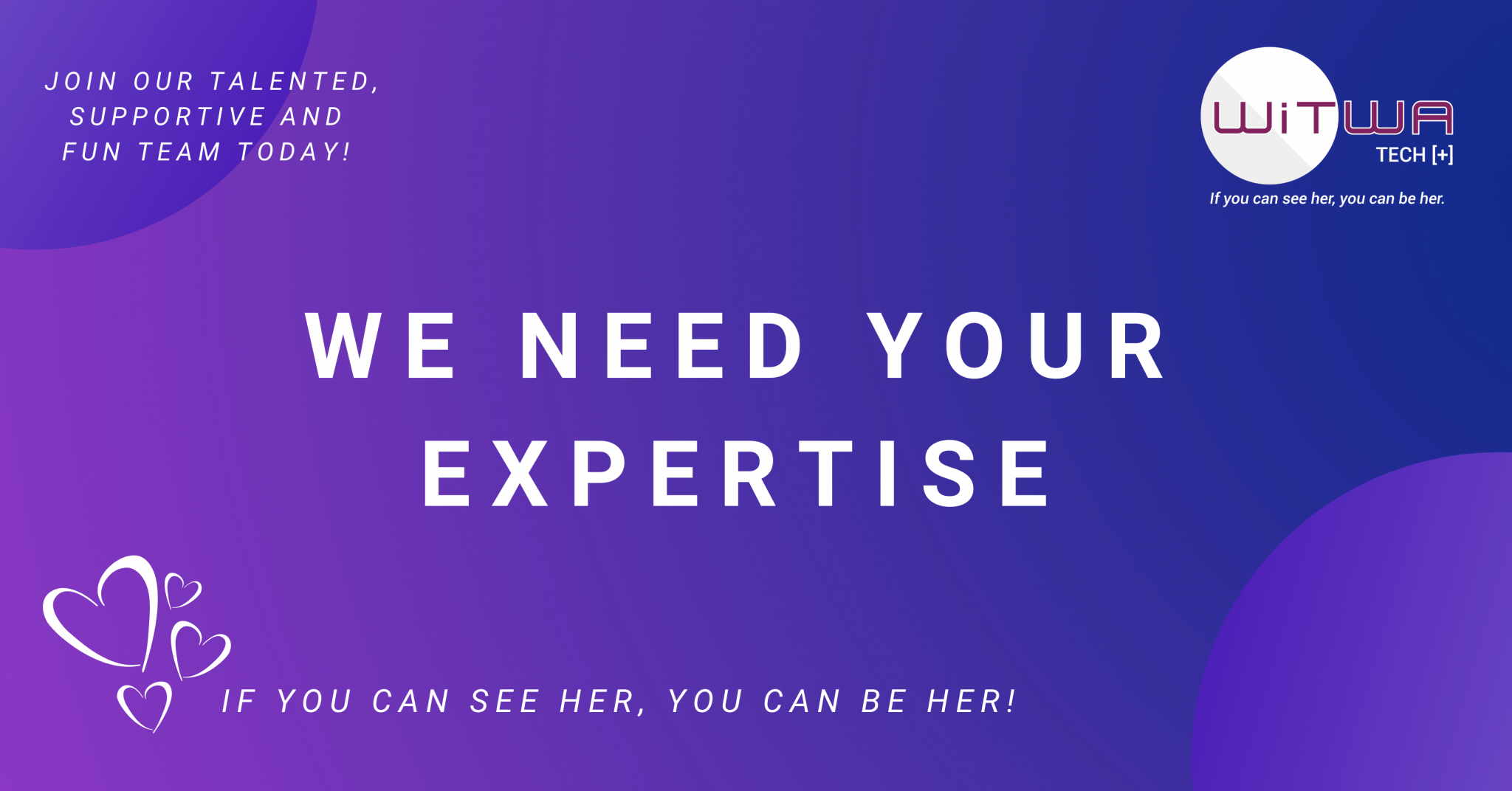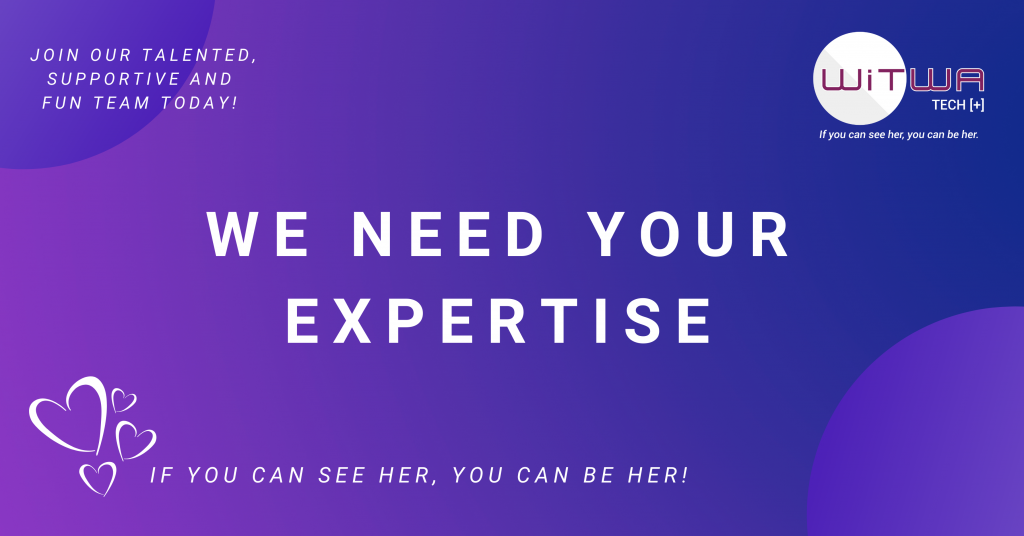 Welcome to our WiTWA Volunteer Vacancies page, where you will find a list of the amazing opportunities to join our fabulous Committees/Sub-Committees.
As WA's leading advocate of diversity, inclusion and equity for women in Tech [+] we are often looking for exceptional people who want to give back to the community and join our mission. Whether you work in STEM fields, technology, data systems, law, finance/accounting, entrepreneurship or more, as we continue to grow our presence and initiatives across WA we require a range of skills to help us achieve our goals.
We believe:
IF YOU CAN SEE HER, YOU CAN BE HER!
We focus on inspiring and enabling women and girls to see what is possible when boundaries are pushed, biases suspended and they are armed with tools and resources to find success and opportunity.
If you would love to join our talented, supportive and fun team of exceptional volunteers, all on a mission to drive positive social change, then check out the current vacancies below.
If you have any questions about any of the volunteer roles, please contact Tina Ambrose via [email protected]
---
Government Partnerships
Do you currently have a strong network within the government sector and enjoy connecting organisations who share the same values? We are looking for a volunteer to help nurture our existing partnerships with government and identified new government partners and opportunities.
---
Grant Application Writer
Are you comfortable creating professional content, with experience in writing grant applications, reporting on outcomes and drafting grant acquittals? With a pipeline of Grants to submit throughout the year, your role will be critical in supporting WiTWA to secure additional funding and increase our impact of our plight for gender equality in WA. We have all the background information, statistics and systems that you need to help you on your way.
---
Website Support
Are you a tech savvy expert who has experience in using WordPress? If yes, then we want you! To have a passion for technology and expertise in systems this will help you to deliver and promote exciting stories on our website, showcase amazing women in tech [+] and collaborating with volunteers to collate content for initiatives and events run by WiTWA and across the state.
---
Graphic Designer
Do you have an eye for conceptualising designs, with a passionate use of colours… Are you a canva expert who has templates for every project and campaign that you deliver… Is branding and attention to detail what you dream about when you go to sleep? Then we need you! You will also have the free range to bring your ideas to the table and to get involved in strategic communications planning.
---
Event Organiser
Do you love events? Are you an exceptionally organised person who has a plan for every occasion… Is delivering a master piece your thing… Does an informative event excite you? Then you will fit right in to our Event Sub-Committee, who are great networkers and deliver the sell-out events WiTWA is so well known for!
---