Techtrails STEM and Future Skills Program
The Techtrails STEM and Future Skills Program is designed to generate passion, excitement and interest to inspire young people to consider careers in technology and science. We offer STEM incursions for Western Australian secondary schools, focusing on public schools in the metro and regional areas. Thanks to support from the Department of Education, Skills and Employment and Department of Industry, Innovation and Science we are able to offer the incursions free of charge to public schools.
Schools choose the STEM and career themes most relevant to their cohort. We then source some of WA's most inspirational STEM professionals and entrepreneurs to share with students their career journey, what their job is like, and how students can turn their passion into a successful future career. 
Our aim is to role model, showcase and inspire!
 For more detailed information about the various WiTWA Tectrails STEM initiatives, check out the purpose-built website.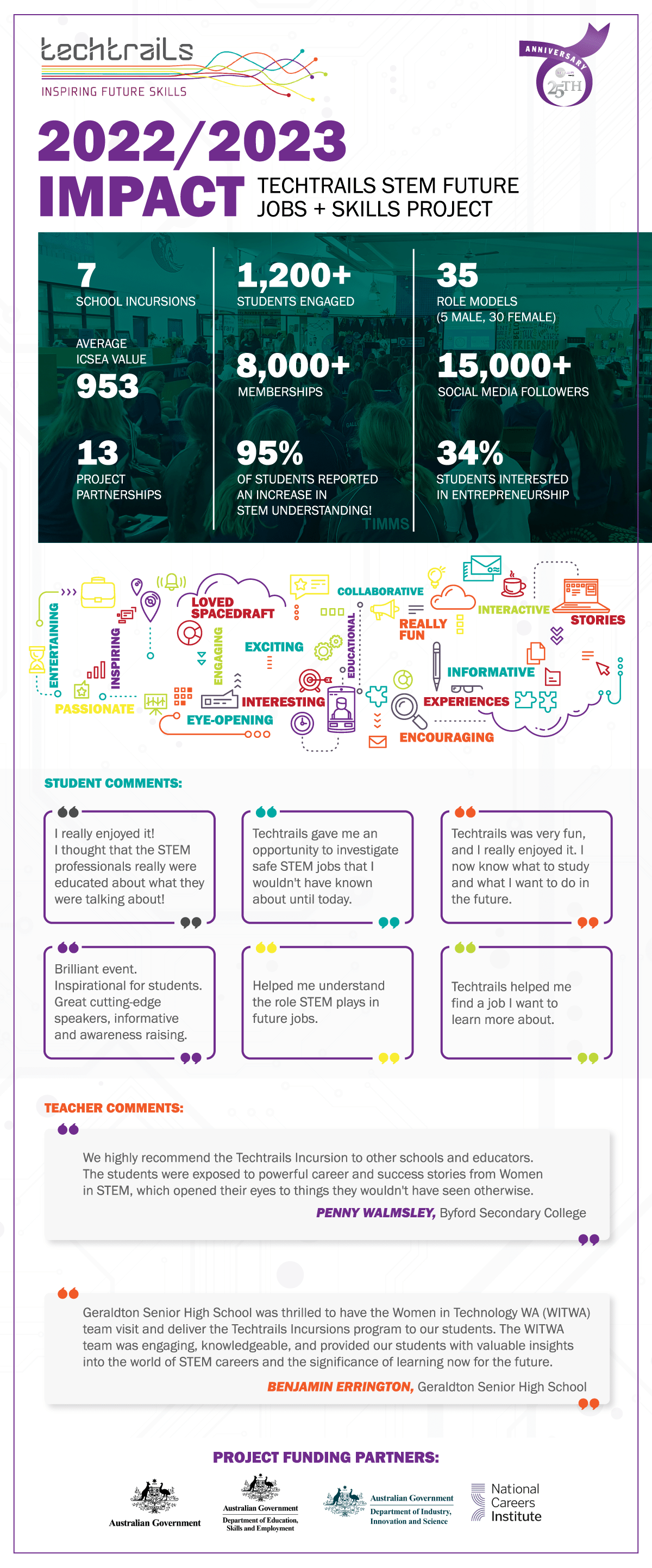 Techtrails Online (LMS Modules)
Our Techtrails Online STEM modules experience moves into the digital world creating a "self-serve" experience for students, educators and career influencers.
Techtrails Online is a series of digital modules featuring links to future careers and video content showcasing inspiring female STEM role models.
Although accessible by all, this exciting new initiative has been designed to inspire especially young women and girls for a future in STEM, and give them the opportunity to explore where these skills could take them. For more details have a look at our Digital Resources page.
Careers Discovery Platform (CDP)
Our Careers Discovery Platform is designed to take students on a journey. Very few people really know what they want to be when they leave school.
This free digital resource helps students to understand a little more about what exciting options are waiting for them beyond the classroom. The enables students to consider where their interests and strengths lie, and importantly how they could apply those skills to the jobs of the future. You get to consider what you like and how you think, leading you to explore the different STEM pathways.