On 1 December, Women in Technology WA (WiTWA) completed a fantastic year of activity at its annual End of Year event, kindly hosted by Herbert Smith Freehills at its spectacular Perth offices. We were delighted to welcome over 120 guests, comprising WiTWA members, speakers, sponsors and industry and government representatives, all of whom have played a significant role towards our success in 2015.
Marjolein Towler, Chair of WiTWA, opened proceedings and outlined the activities we have delivered throughout the year, including the WiTWA Tech Exchange, monthly Cheeky Sparrow networking events, Women's Interest Breakfast on Gender Equity, RSM and Takor Industry Event on Geospatial and mobile technology, Deloitte Innovation Café, as well as the highly successful techtrails program.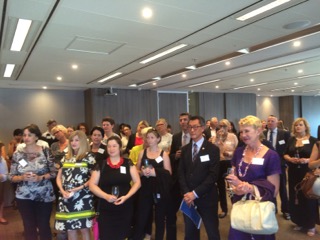 Schools that participated in the program this year included Lesmurdie SHS, Melville SHS and will culminate in WiTWA's second regional techtrails at Broome SHS on 11 December, sponsored by Kinetic IT. This brings the total number of students reached in 2015 over 300 with a total of just under 1,000 students having completed techtrails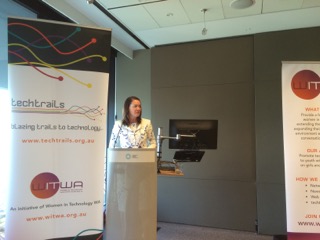 Keynote speaker, the Hon Liza Harvey, MLA, Minister for Women's Interests, provided an overview of her women's interests' portfolio in 2015. She spoke about WiTWA's positive role in furthering the conversation on gender equity in WA and highlighted the importance of STEM careers for future economic growth and prosperity. She praised the techtrails program for making such a valuable contribution towards encouraging secondary school students to consider Science, Technology, Engineering and Ms Harvey also talked about the three successful Women's Consultative Forums, the first of which she chaired with the Premier, and invited the audience to develop alternative, more inclusive language around terms such as "non-traditional sectors". She outlined other initiatives delivered in 2015 through her Department of Local Government and Communities' Women's Interests portfolio including resources for women about superannuation and a range of scholarship programs. A highlight of Ms Harvey's presentation was her announcement of the continuation of the Industry Partnership with WiTWA and pledging $10,000 in 2015/16 towards continuing WiTWA's network and knowledge expansion initiatives and the techtrails program.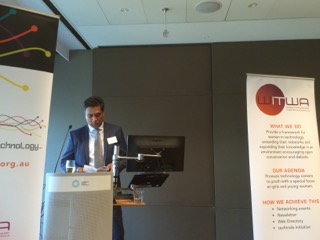 Following Ms Harvey's presentation WiTWA was delighted to welcome recently appointed WA Government CIO, Mr Giles Nunis, to outline his vision for ICT in the public sector in WA. Mr Nunis referred to the recent leadership changes in Canberra and how the time was now right to actively engage in an innovation agenda. Mr Nunis stated that women are essential in driving innovation in any organisation. He added that we were already seeing a shift in the economy with the decline in the resources and energy sectors and the rise in importance of the tech sector which now employs around 50,000 people in WA as opposed to the 100,000 employed in the resources industry. Mr Nunis also stated that he hoped to see an increase in female CIOs in the public sector – there were just 4 female CIOs out of 85 when he Formal proceedings concluded with the announcement by one of WiTWA's event partners in 2015, Takor Group, an independent remote sensing, visualisation and software development company, of a paid technology internship which was awarded to Ms Joveria Beg.
WiTWA would like to extend its sincerest thanks to all of our event partners, sponsors and speakers, in particular our primary sponsors the State government Department of Local Government and Communities Women's Interests Portfolio, Kinetic IT and the UWA Faculty of Engineering, Computing and Mathematics, for making 2015 so successful. This is the full list of sponsors.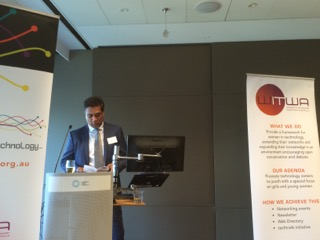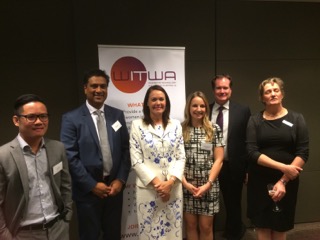 From WiTWA we would like to wish everyone a happy, safe festive season and successful 2016. Please also keep an eye out for our new website and exciting activities and events planned for 2016.
For any queries, suggestions or to offer your support please contact:
Daniela Mattheys
Mobile 0434 609141